Determining the Right Pricing Strategy for Your Business
02 March 2023
A good pricing strategy drives three of the main components of your company's achievement: the profit it makes, the brand image and the consumer behavior. Most businesses hand over the power of pricing to their competitors, as they fail to seize the opportunity around pricing. Data has shown that when it comes to business growth, an effective pricing strategy would be twice as efficient as improving retention and four times more effective than improving an acquisition.
Selecting the Right Pricing Strategy
Picking the right strategy for your business involves conducting market research, a clear competitor analysis, and defining your brand's unique value proposition. Take into consideration your cost structure to ensure that the chosen pricing strategy is sustainable in the long run for your business. Align your pricing strategy with your business goals and ambitions. Remember to position your pricing as an investment, not an expense.
Often, the right pricing strategy is a mix of the key pricing strategies. Pricing decisions must be based on research into the target market, customer personas, and marketing strategy to be successful. There are various research methods that help businesses to make an informed pricing strategy. This includes Max-diff analysis, price sensitivity meter research, and conjoint analysis to name a few. These methods can help gather insights about the willingness to pay and the value perceived by the customer.
Using a one-size-fits-all approach can result in an unintentional disconnect with your customers, even when you use the best practices. Find the sweet spot that satisfies both your clients' budgetary needs and the financial objectives of your company by conducting research, testing, and iterations.
We recommend an easy 5-step process when developing the right pricing strategy:
1. Determine your business goals: This could be anything ranging from improving cash flow, market penetration, to increasing prospect conversion. This will ensure your strategy is in line with the context of the market you are competing in.
2. Conduct a thorough market pricing analysis: This step is crucial to understand how your competitors are competing in the market. If you are catering to a broad audience with several market players, the pricing of your product is likely to be more sensitive in comparison to a niche market.
3. Analyze your target audience: Understanding your audience will help you chalk out the what, why, and how of your business. This can help you gauge the value perceived by your customers as well.
4. Profile your competitive landscape: Despite the business or market you are operating in, your competitor's pricing strategy has a key influence on your pricing strategy. Consider your direct competitors, the switching costs for your customer, and indirect influences (if any) before executing your pricing strategy.
5. Create a pricing strategy and an execution plan: At this point, you have enough data and insights to form your pricing strategy. Let's dive into some possible pricing strategies that you can implement depending on your business context.
Understanding Pricing Strategies
Pricing your product or service might seem like a straightforward act on the face of it. However, what business owners often realize too late is that the pricing strategy reflects your business' identity, how you stand among your competitors, and how you value your customers. After all, your products and services compete on the market via their pricing.
Hence, when it comes to pricing your product, businesses need to look beyond merely factoring in a profit margin per unit value to develop an overall pricing strategy that is sustainable in the long run.
While there are plenty of pricing strategies that you can opt for, pricing your product or service, be it B2B or B2C, involves 5 key pricing strategies:
1. Cost-based pricing
2. Competition-based pricing
3. Value-based pricing
4. Dynamic pricing
5. Penetration pricing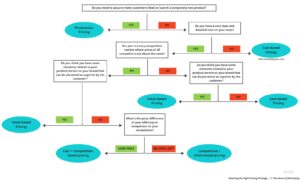 Getting your pricing strategy right
Whether you are starting a new business or optimizing your current pricing strategy, pricing is a crucial step to bolster your revenue and ensure long-term growth. Pricing strategy narrows down to the market and context you are operating in. It is a reiterative process as it requires constant optimization based on the changing dynamics of your market.
Regardless of which pricing strategy you choose, choosing a sustainable strategy is essential for continued business success. After all, you might have the best product and service in the market, but without an effective pricing strategy that captures the value offered to customers, your sales will ultimately struggle.
Thinking about all the elements that go into choosing the right pricing strategy can be an overwhelming process – and that's okay. We are here to help. Looking to develop a winning pricing strategy? Get in touch with our pricing experts.
Sources:
1) Forbes: https://www.forbes.com/sites/forbesbusinesscouncil/2021/02/16/12-techniques-for-selecting-the-right-pricing-strategy/?sh=63a3197e3fae
2) Harvard Business Review: https://hbr.org/2016/08/a-quick-guide-to-value-based-pricing
3) McKinsey & Company: https://www.mckinsey.com/capabilities/growth-marketing-and-sales/our-insights/understanding-your-options-proven-pricing-strategies-and-how-they-work
4) Harvard Business Review: https://hbr.org/2022/09/7-lessons-on-dynamic-pricing-courtesy-of-bruce-springsteen
5) Inc: https://www.inc.com/patricia-fletcher/5-easy-steps-to-create-the-right-pricing-strategy.html
Learn More about Pricing Strategy
Other
relevant
Posts
Discover smart tips, personal stories and our take on the latest marketing trends
Let's push your marketing strategy to the next level!
Switch to a higher gear with our strategic marketing consulting or interim management services.
Start your project